The City of London – the original London – was founded by the Romans in the first century AD. It has survived fire, plague, terrorism and war, and has witnessed almost 2000 years of history. This is the famous 'Square Mile', the London that Shakespeare knew; the home of Chaucer, Pepys, Johnson and Dickens.
The best way to see the sights is on foot, in the company of a professionally qualified City of London Guide.
Today 'the City', as Londoners call it, is the financial capital of Europe and a treasure trove of peaceful churches, noble livery companies, austere banks and law courts, busy markets, secret gardens and cosy pubs.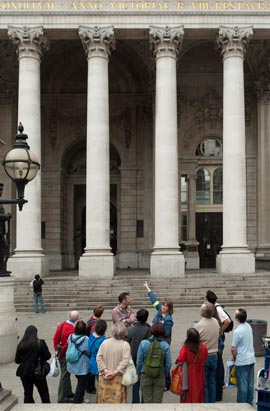 Join me, Karen Chester, for an expertly guided walk in the City of London. Every Big Smoke Walk is a genuine original, based on my own extensive research and insatiable curiosity about the City.
You can choose a title from the Big Smoke Walks Menu, or I can custom-tailor a bespoke walk for you and your friends, your club, society or corporate organisation. No two walks are ever the same. I promise you a relaxed, friendly, informative and entertaining day out!
Alternatively, I can bring the City to you with a professionally illustrated talk. Please contact me to discuss possibilities.
How about joining a turn-up-and-go walk? No need to book; simply meet me at the appointed place and time and pay me at the start of the walk. Have a look at What's On, or contact me to see what's coming up.