Londinium: Lost & Found ©
Rediscovering Roman London
The City of London was founded in 43AD by the Romans, who lived and prospered in Britain for more than three centuries. The riverside docks and warehouses, the fort, the amphitheatre, public baths, great houses and mysterious temples of Roman London are all buried beneath modern-day pavements and office blocks. But, incredibly, much of the ancient city is still visible to this day – if you know where to look!
Walk lasts: about 2 1/2 hours – with a restorative break along the way.
Your guide: Karen Chester is a fully trained and registered City of London Guide Lecturer, and will be wearing the prestigious City Badge.


Big Smoke Walks take place whatever the weather. Big Smoke reserves the right to limit numbers.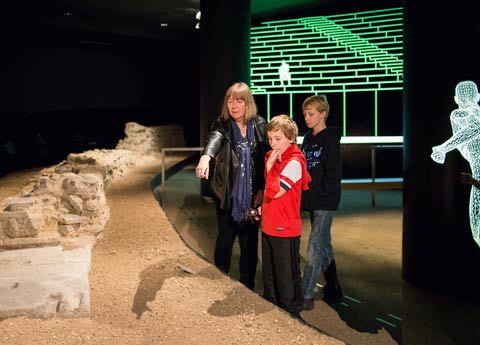 Guiding in the Roman Amphitheatre, Guildhall Art Gallery
Photograph courtesy Niki Gorick