Paved With Gold ©
Dick Whittington and medieval London
Every year, theatres across England enact the story of Dick Whittington – a poor orphan boy in medieval London who rose to be three times Lord Mayor, largely due to the antics of his faithful cat!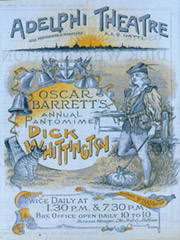 But is the true story as engaging as the legend? Oh yes it is!
On this walk we investigate the fictional and the historical Richard Whittington. We'll discover the history and heritage of the Lord Mayors and conjure up the City of London in the Middle Ages. And there's a fair bit about cats in it too!
Walk lasts: about 2 1/2 hours – with a legendary refreshment break along the way.
Your guide: Karen Chester is a fully trained and registered City of London Guide Lecturer, and will be wearing the prestigious City Badge.
Talk: Paved With Gold is also available as an illustrated talk!
Big Smoke Walks take place whatever the weather. Big Smoke reserves the right to limit numbers.